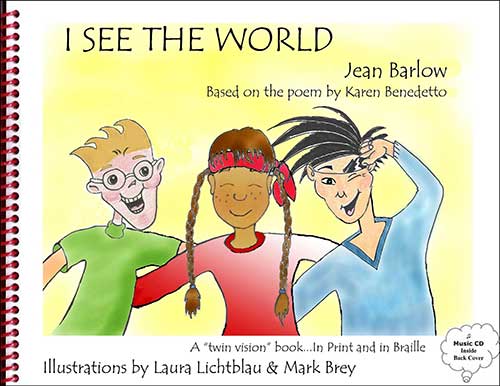 This book is for children ages Pre-K to 9+. It is offered as a teaching tool primarily for sighted kids, advancing the concept of tolerance and understanding as they learn to honor the experiences of those who may see differently from themselves. It is also an anti-bullying lesson for the very young child. I SEE THE WORLD is a "twin-vision" book with poetic printed text, enhanced with braille, along with integrated illustrations to complement its text. The three parts of the book relate stories through the eyes of our main child characters: "Glen" who wears glasses, "Paul" who wears a patch, and "Brenda" who is blind. They share their own day-to-day life experiences in a positive way to inform and entertain both the fully sighted child and the one who is visually impaired or blind. Presenting the text also in "the language of the dots" helps build interest in braille by sighted children and their families, and, by its use, increases braille literacy in the process. Also added is the dimension of music by inclusion of the story set to music on CD. Building confidence, understanding, and acceptance, I SEE THE WORLD is a unique experience for the individual child and his family at home, or in a classroom or library setting. At the present time, the authors are self-publishing, self-promoting, and self-financing I SEE THE WORLD. Educational, motivational, and inspirational, the goal of the story is the realization that—whether we view the world with our eyes, or our hands, or our hearts—"it takes much more than eyes to see".
Paula Byrne of P&M Braille Transcription, Granbury, TX, provided the braille transcription of I See the World© in UNcontracted form as requested by the author.
The Brailler Depot, Clifton, NJ, provided the braille embossing.
We invite you to experience the book at www.ISeeTheWorld-ChildrensBook.com
It is available through the website as well as directly from its author, Jean Barlow, at (845) 268-3170 or by e-mail at Jean.ISeeTheWorld@verizon.net
OUR MISSION STATEMENT
To produce the "twin-vision" children's book entitled, I See the World©, as not only an enjoyable story for a young child—whether fully sighted, visually impaired or blind—but also as a means of "teaching tolerance".     We envision this book as a means to help build interest in braille by sighted children and their families, thus increasing braille literacy in the process.     We offer I See the World© as an educational, inspirational, and motivational piece. Through its lesson of tolerance and understanding, we see it as a blueprint for teaching children from an early age to honor the many differences of all persons by treating all with dignity and with respect.