75 years of providing continuing education to those who prepare braille and braille materials to persons who are visually impaired.
Welcome to National Braille Association
National Braille Association, founded in 1945, is a non-profit organization dedicated to providing continuing education to those who prepare braille, and to providing braille materials to persons who are visually impaired.
Since our founding in 1945, the National Braille Association has been led by a team dedicated to ensuring that braille readers receive the best materials possible. Teachers of the visually impaired and braille transcribers in North America receive education from leading experts through these services.
Membership
Join others from around the world to gain access to exclusive content created for transcribers and teachers of the visually impaired
Conferences
Join us for our annual Professional Development Conference each fall to receive training on a broad range of topics
Training Bureau
Our team of experts can visit your organization and offer a training experience tailored to your group's needs
Ask an Expert
Our technical support forum allows members to ask questions about transcription projects and receive direct support
Publications
Our website store features print, hard copy braille, and ebooks of training materials written for all levels of expertise
Web-Based Learning
Join one of our webinars from anywhere in the world, or watch a training video in our archive of recordings
2022 Professional Development Conference
This year you can register to join us live in-person in San Antonio or register to attend our conference from the comfort of your own office!
National Braille Association is an international organization with no local units or chapters. All members join as individuals. Many of them work through philanthropic, religious or service groups in their own communities or are professionals in related fields. All serve NBA in a volunteer capacity, including those on the Board of Directors.
Recognizing that it is costly and sometimes difficult for transcribers and teachers of the visually impaired to travel for training, the National Braille Association began to offer web-based learning opportunities in 2016.
We offer a series of webinars to NBA members and the general public.
The National Braille Association is grateful to those who
have helped contribute to our mission. We invite you to join our members,
corporate sponsors, and our friends in offering a contribution.
NBA Training Publications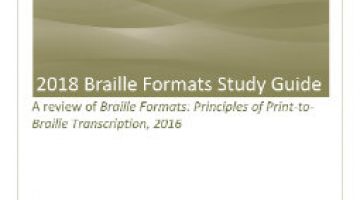 2018 Braille Formats Study Guide
The 2018 NBA Formats Study Guide is designed to familiarize transcribers with the Braille Formats, Principles of Print-to-Braille Transcription, 2016 code.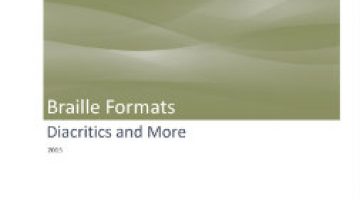 Diacritics and More, 2015
This material examines words divided into syllables, words with diacritic markings and other types of grammar examples. The rules of Unified English Braille and Braille Formats 2016 guidelines are combined to show the best way for transcribing these types of text.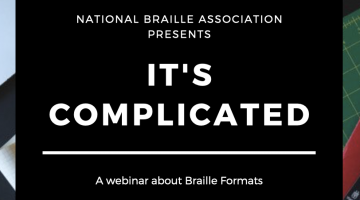 Webinar: It's Complicated
Single registration for live attendance to "It's Complicated" webinar on January 25, 2019