BRAILLE FORMATS CERTIFICATION
The Braille Formats Certification Exam is a test of a transcriber's ability to properly apply the Formats guidelines to transcription projects.
To qualify for certification in Braille Formats, transcribers must first be certified by the National Library Service (NLS) in Literary Braille Transcription or by the CNIB Foundation. Information on the NLS certification can be found here, and information on the CNIB certification can be found here.
Having the most current certification in a specific area can be attractive to a potential employer. Some employers may even require that you obtain the most current certification. But it is NBA's belief that someone who has obtained a certification in Braille Formats 2011 and a Letter of Proficiency in Unified English Braille has adequately demonstrated their ability to accurately transcribe textbooks into braille according to the latest codes and standards.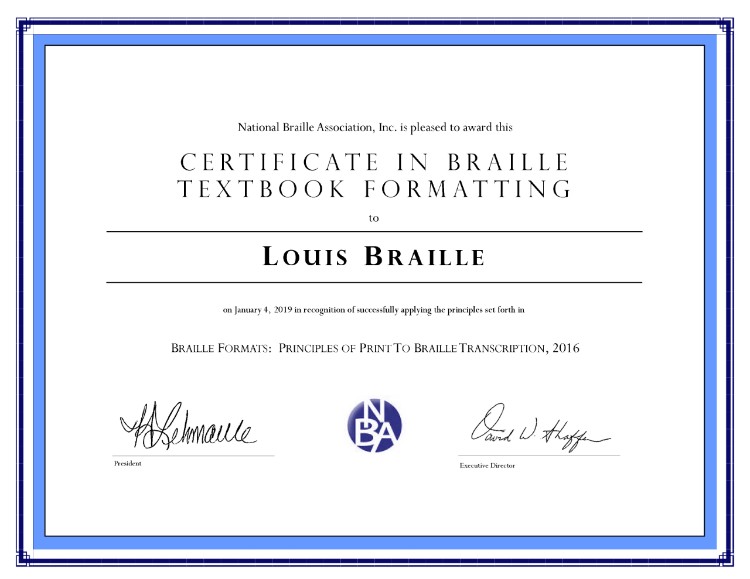 The Braille Formats certification exam is completed by mailing the test materials. Those seeking to become certified will complete an application form, and submit the form with payment. The exam taker (or proctor) will then receive a version of NBA's own mini-textbook through the mail.
Individuals have eight weeks to complete transcription of this sample textbook and return all materials. Upon receipt, a grade accompanied by an error report will be returned to the exam taker within one month.
CLICK HERE TO DOWNLOAD AN APPLICATION
Quick Facts
The cost of the exam is $175.00
Individuals have eight weeks to return the completed exam back to NBA from the date they were received
Submitted materials must be in simbraille with numbered lines, in portrait oriented printing
The exam is open book so you may reference codes or study materials, but consulting with other individuals is prohibited
Grades of 80 or higher will be awarded certification. Grades below 80 will be documented as a failed attempt at certification. Any exam taker receiving a failing grade on their first attempt make retake the exam right away. The process for a second attempt at certification is identical to the initial application process.
Individuals who successfully certify are given an electronic certificate and are listed on our website as evidence of their proficiency in the current code.
For those who are incarcerated and wish to become certified, we have developed a process to ensure that you will have access to the same opportunities to certify. Because of the sensitive nature of exam taking, some additional steps are required for those residing within an institutional setting. If you are incarcerated, or seeking information on behalf of someone who is incarcerated, please contact our office directly for more information.
In addition to the guidelines available from the BANA website, we have written and published the 2018 Braille Formats Study Guide to help you familiarize yourself with the guidelines and its application prior to taking the exam. Purchase of the study guide is not required for certification, but many exam takers find it helpful in learning the material and applying its concepts.
In addition to these materials, NBA has published a number of publications to help learn the intricacies of the Braille Formats code. These publications are available in our website store.
Each month, NBA conducts a free, 15-minute webinar focusing on one aspect of Braille Formats. Attendance at our webinars are free and open to all. Recordings from all of our webinars is accessible to current NBA members in the archive.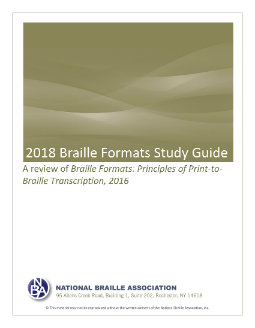 [March 2018]
We have released the newest Braille Formats Study Guide in both print and ebook editions. Both editions are available in our online store for $50.00. For more information and to purchase, visit the product link here.
[August 2018]
The newest exam has been finalized and is currently in beta mode! We expect that the exam will be available to the public sometime in early fall.
[November 2018]
The exam to certify under Braille Formats 2016 is available! Click here to read the announcement.
CERTIFIED TEXTBOOK TRANSCRIBERS
The following people have received certification in Braille Formats through the National Braille Association based on the Braille Formats: Principles of Print to Braille Transcription, 2016.
Arizona
Chad Garcia
Brian Houston
Michael LaMonica
Shakiyl Law
Charles Parrish
Newton Scott
Timothy Smith
Jenny Wheeler
Thomas Wood
Arkansas
Nicholas Swinney
California
James Lamont
Xanar Navarrete
Connecticut
Beth Carpenter
Delaware
Ernest Bowen
Robert Warrington
Georgia
Jeremy Allen
Jay Daily
Ayelet Chaya Ellituv
Melanie Lane Evans
Warren Hall
William Kollie
Spencer Martin
Larry Patt McKiernan
Charles Mize
Rodney Phillips
Maritza Ramirez
Ronald Reed
Michael Rewis
Martin Santiago
Meghan Slappey
Brandie Weeks
Indiana
Joseph Blackmer
Nonna Cortez
Robert Eutz
Oscar Foster III
Jeffrey Higgenbottom
Debra Krise
Gordon Northrup
Oleksan Pushkarovych
Kyle Vladetich
Iowa
Johnny Estes
Mike Goehring
Stephen Jonas
Gadet Kang
Noah LaPrei
Andrew Ramirez
Christopher Simpson
Brandon Vance
Kentucky
Shelley Denise Abell
Verona Brinegar
Christina Conroy
Rebekah Freedman
William Graven
Emily Grimany
Jennifer Gordon
Michael Hammett
Karen Hampton
Tonya Henson
Brooke Jones
Kimberly King
Jessica Marcum
Katherine Padgett
Sirena Peters
Brandy Roth
Virginia Williams
Michigan
Amber Goodine
George Luis DeJesus
Minnesota
Penny Carpenter
Cindi Laurent
Anna Werner
Dorothy Worthington
Nebraska
Adam Scott
Bryan Black
Nevada
Christopher Scarborough
David Rodius
New York
Kathleen Cantrell
North Carolina
Mathew Benner
Larry Demery
Frank Adam Fisher
Josh Hatfield
Ohio
Robert Clapper
Mitchell Geiogue
Michael Gunner
William Kellam, Jr.
William Luther
South Carolina
Tonya Ayers Bouler
Ashley Butler
Jennifer Lea McSharry
Lauren Charity Smith
Sunshine Reno-Self
Kimberly Taylor
Tennessee
Tim Bowles
Victor Cowley
Larry Fisher
Adrian Gregory
Anthony Harding
Mark Higgins
Shannon Mayes
Bryiant Overton
Jorge Sanjines
Texas
LaVerne Blaasee
Angela Brewer
Elizabeth Burke
Rosalyn Burdett
Ashley Dack
Patricia Elliott
Yulianna Espinoza
Cindy Harris
Melissa Klepper
Carri (Vickers) LaGoia
Suzanne Landers
Cynthia Mahaffey
Lacy McCauley
Karen Moyer
Bernadette Perusquia
Dana Tackett
Deborah Ting
Utah
Yesenia Burdette
Melissa Grandy
Washington
Michele Donohue
Jennifer Mothershead
Phiengchai Sisouvanh
Wisconsin
Claire Egan
Wyoming
Larry Allan
Belgrade, Serbia
Dragica Miletic
The following people have received certification in Braille Formats through the National Braille Association based on the Braille Formats: Principles of Print to Braille Transcription, 2011.
ARIZONA
David Borg
CALIFORNIA
Patty Biasca
Alfredo Cruz
Terry Harris
Janis Hynd
Ann Kelt
Timothy Malone
Eric Nathaniel Marum
Katrina Ostby
Devin Otte
Kent Ray
Rolando Rodriguez
Robert Roldan
Lyale Shellman
Mark Taylor
Deborah Ting
Joanna Venneri
Kathleen Walker
Joyce Walling
COLORADO
Joan Bush
Wayne Thurman
FLORIDA
Lynnette Taylor
GEORGIA
Joseph Randy Davis
David Greiner
Charles Mize
IDAHO
Susan Baker
Eric Gallion
ILLINOIS
Michael Keary
INDIANA
Betsy Scott
IOWA
Jerry Lee Cole Jr.
John Romeo
KENTUCKY
Crystal Barlow
Jan Carroll
Mary Cook
Alicia Dam Ron
Kyle DeJute
Willow Freeman
Dena Garrett
Brenda Humphrey
Ella Renee Inman
Shara Lucio
Vicki-Lou Monroe
John Rippy
Lynn Sluder
Joy Watkins
Jason Wilson
Rose Zinious
MARYLAND
Deborah Brown
Kathy Haskins
Laurie Moynihan
MASSACHUSETTS
Sandy Smith
Rae Tyler
MICHIGAN
David Abdalla
Mitchell Keil
Tomas Kowalak
George Maki
MINNESOTA
Kathryn Grafsgaard
Cindi Laurent
Dorothy Worthington
NEBRASKA
James Darrell Russell
Wolfgang Rust
Mark Schnabel
Mark Wagner
NEVADA
David Rodius
NORTH CAROLINA
Cynthia Belue
Curtis Fields
James Locklear
Allen Mayes
Malcolm Pfeiffer-El
NORTH DAKOTA
Mary Denault
OHIO
Robert Clapper
Michael Gunner
SOUTH CAROLINA
Mary Bey
Tiffany Elmore
Denise Edgar Hagan
Hollie Knight
Kim Martin
Connie Murray Dumas
Rebecca Oswalt
SOUTH DAKOTA
Travis Davis
Toby Ferguson
Justin Goens
Todd Schmahl
TEXAS
Angela King Burley
Christine Dodson
Katy Dumdie
Angela Foshee
Evelyn Gaither
Carmen Gilchrist
Whitney Gregory
Cindy Harris
Clara Harris
Celeste Johnson
Melissa Klepper
Cynthia Mahaffey
Lucretia Manuel
Susan Moravec
Connie Stone
Carla Williams
VIRGINIA
Susan Harwood
Tracy Reeves
WASHINGTON
Theresa Beem
Gail Brashear
Connie Conley
Felicia Dixon
Kim Engel
Shonda Foster
Terri Fox
Robin Johnson
Teri Johnson
Pamela Lorenz
Nichole McCaslin
Ginger Pratt
Jennifer Rice
Rebecca Sherwood
Heather Van Hooser
Yvonne Wood
WISCONSIN
Susan Christensen
Julie Sumwalt
Lindy Walton
ONTARIO, CANADA
Rose Marie Durocher
Debbie Gillespie
The following people have received certification in Braille Formats through the National Braille Association based on the Braille Formats: Principles of Print to Braille Transcription, 1997.
ARIZONA
David Borg
Beth Ann Harris
Twyla Painter
CALIFORNIA
Patty Biasca
Leo Cisco
Jon Crawley
Jeffrey Creagan
Alfredo Cruz
Terry Harris
Ann Kelt
Roman Martinez
Katrina Ostby
Jose Perez
Roger Quilalang
Dint F. Ray
Robert Roldan
Lyale Shellman
Sean Six
David A. Smith
Kathleen Talley
Arnoldo Trevino
Joanna Venneri
Kathleen Walker
Joyce Ann Walling
COLORADO
Joan Bush
Frederick J. VanAckeren
DELAWARE
Glenn MacDonald
FLORIDA
Florence Mathieson
Lynnette Taylor
GEORGIA
Angela Brewer
Randy Davis
David Shawn Greiner
Bobby J. Hertz
Kathy Williams Thompson
IDAHO
Timothy LaBelle
Eric Tracy
INDIANA
Velda Miller
Frances Scott
Rosemarie Zinious
IOWA
Jerry Lee Cole Jr.
John M. Romeo, Jr.
KENTUCKY
Mary Cissell
Wilma Druin
Dena Garrett
Hacker, Debbie
Jayma Hawkins
Shara Lucio
DeAnna Morrison
Terry Rogers
MARYLAND
Debra A. Adle
Kathy Haskins
Laurie D. Moynihan
Teresa M. Nocar
MICHIGAN
David Abdalla
William Freeman
Rosh Hashana Holmes
Mitchell Keil
Tomas L. Kowalak
George Maki
James Mitchell
MINNESOTA
Kathryn Grafsgaard
Cindi Laurent
Dorothy Worthington
NEBRASKA
Jeffery David Rasmussen
Mark A. Schnabel
Niccole Wetherell
NEW YORK
Karen Chauvin
NORTH DAKOTA
Mary Denault
OHIO
Robert Clapper
OREGON
Stefanie Buzek
Michael Gunner
Dave C. Ruble
PENNSYLVANIA
Joanne Jaindl
Jean Simpson
Carol Sue Stockdale
SOUTH CAROLINA
Donna Bailey
Cynthia D. Belue
Samantha Brooks
Chase Burnett
Melissa Burris
Myra Christenbury
Denise E. Hagan
Anita McCraw
Parenthia McDonald
Rebecca Viggiano
SOUTH DAKOTA
Matthew Cobb
Mary Czepyha
Toby Ferguson
Jordan Wixon
TENNESSEE
Dawn Bedard
TEXAS
Deborah Armstrong
Kathryn Biegler
Angela Burley
Cheryl Davis
Christine Dodson
Katy Dumdie
Evelyn Gaither
Angela Garrett
Don Gerber
Carmen Gilchrist
Whitney Gregory
Sailaja Hathaway
Sandra Hutto
Celeste Johnson
Melissa Klepper
Cynthia Mahaffey
Lucretia R. Manuel
Misty Martin
Patricia Miller
Susan Moravec
Connie Stone
Keisha Walker
Tracey Whitmire
Carla Williams
VIRGINIA
Susan Harwood
WASHINGTON
Kim Engel
Robin Johnson
WISCONSIN
Jeremey Becker
Mary Ann Damm
Jason Faber
David Feist
Joel Furst
Dennis Helwig
Jeffrey Hunter
Constance Risjord
Satyaki Saikia
Julie Sumwalt
ONTARIO, CANADA
Rose Durocher