April Nemeth Webinar: Nemeth Within UEB Contexts
Join us on April 23rd for the next webinar in our online training program. Kyle DeJute, Chair of NBA's Nemeth Code for Math and Science committee will be leading attendees through 2 hours of Nemeth Within UEB Contexts, An Overview.
This training has been offered for years at our conferences, and
Description
When you're using Nemeth Code with UEB, you've got questions:
1) What has to be in Nemeth Code?
2) Where do the code switch indicators go?
3) How does using Nemeth Code affect formatting?
This two-hour webinar will help you to answer these questions by showing how to apply the Guidance for Transcription Using the Nemeth Code within UEB Contexts, Approved April 2018 to a variety of examples.
The examples in this webinar are largely taken from the workshop Nemeth within UEB Contexts that has been presented at various NBA conferences over the last four years.This webinar is not intended to be an introduction to Nemeth Code, though a cell-by-cell explanation of the braille will be provided for every example.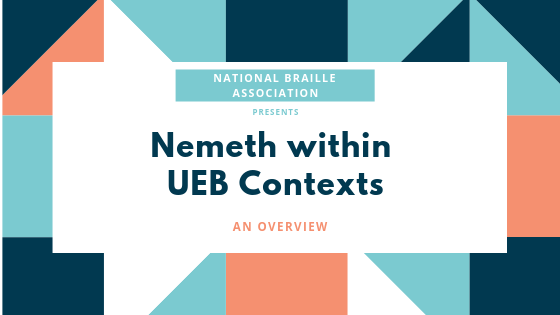 When
This 2-hour online training will take place on Tuesday, April 23, 2019 at 12:30p EST. Registered attendees will receive instructions via email the day prior to the webinar on how to join live.
To Register
You can purchase your individual registration for the webinar right in our online store by clicking this link. Current NBA members can purchase a single viewer registration for $30.00, and non-members can purchase a single viewer registration for $60.00.
(There is no group viewing registration available.)
To receive your member discount, sign in with your account and it will automatically be applied. You can be taken directly to the registration purchase by using this link.
Registration will close Friday, April 19th at 5:00p EST.
FAQ
If you're not able to join us for the webinar, the recording of the entire length of the workshop will be made available for purchase at a later date.
Registrations for the webinar are purchased for individuals, not for group viewing.
If you are registering and need to pay by Purchase Order or check, please contact our offices directly.