Bulletin: Vol. 52, No. 1 – Spring 2016
Even with the weather not in full cooperation in all parts of the U.S., the spring season is in full blossom. And, so is the newest edition of the NBA Bulletin!!
The Spring 2016 NBA Bulletin (Vol. 52, No. 1) is now officially available for current NBA Members to download right from the Member's Section of our website. Once you're logged in, navigate to the Member's Section using the link at the very top of your screen. Both PDF and BRF files are available to download right now! For those of you who receive them, the braille, print and disc editions of the Bulletin are all in the mail and should arrive at your doorsteps within coming weeks. Remember: even if you receive any hardcopy form of the Bulletin, as a current member, you still have access to the digital edition. There's no need to wait if you don't want to!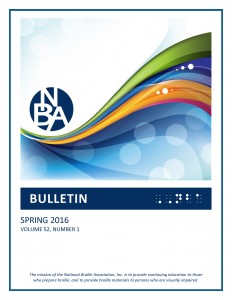 Along with the launch of our new website, we also felt that our 71st year would be a good time to give the look and layout of the Bulletin a bit of a design overhaul. You'll still find all the same sections in the Bulletin, but you will notice that the appearance is radically different. We've spent a lot of time finding color schemes, layout formats and an overall appearance that we're pretty proud of. We've been excited to unveil the new product to you all and we're pleased that the time has come!
If you're a current member, download the digital edition of the Bulletin today!
If you're receiving this message because you're on our mailing list but don't have access to download the current edition, here's a bit more information about what you're missing. To gain access to the Bulletin and other membership benefits, follow the steps after hitting the 'Join NBA' button on the front page.
A special thank-you to Betty Marshall, who is the design genius behind the Bulletins new look.