Introducing the 2019 Lifetime Achievement Award Recipient
In 2009, a long time Board Member and friend of NBA passed away suddenly. There were many individuals who wished they had been able to thank and honor this individual for everything she had done before she passed. It was through this desire that the concept of the NBA Lifetime Achievement Award was born.
Each year, the NBA Board of Directors seeks to find a braille transcriber that is worthy of receiving an award honoring their work.
For the 2019 award, we are proud to announce that the winner of the Lifetime Achievement Award is Robert Stepp.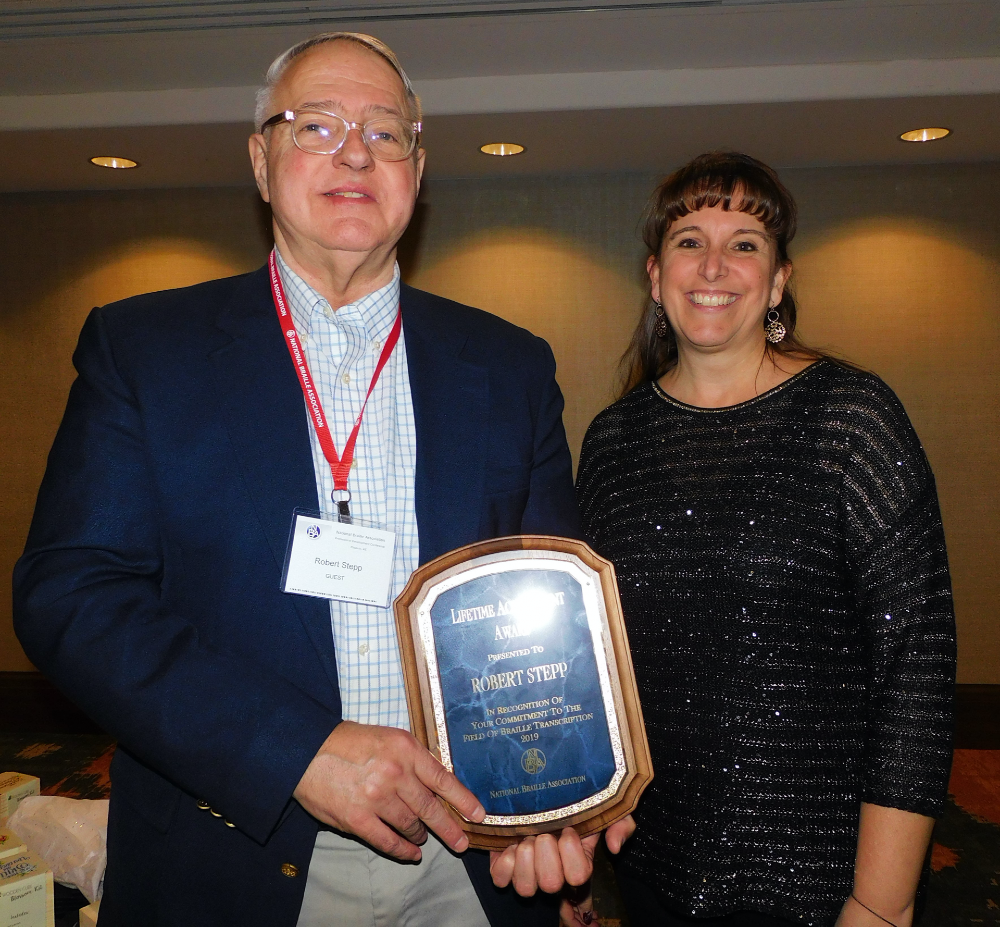 Award Reception
As always, the Lifetime Achievement Award is presented during the banquet dinner at our annual professional development conference. This year Cindi Laurent presented the award as one of her first tasks as our newly installed President in Phoenix.
NBA is proud to acknowledge the decades of hardwork and innovation that Bob Stepp has brought to braille transcription. As the creator of the popular Braille2000 software program, his legacy has surely reached countless braille readers across the globe.
After Cindi presented our award winner with a plaque accompanied by a brief comment about his crowning achievements, Bob spoke a bit about his entrance to working with braille, and how his career has been impacted over the years by the many transcribers he has worked with.
To read his words from the evening, you can visit the Lifetime Achievement Award page where you'll find a transcription of his acceptance speech within the 2019 profile at the bottom of the page.
Looking Forward
We are proud to include Bob Stepp among those who have been recognized for their work with the Lifetime Achievement Award. If you know of a transcriber whose work you feel is particularly noteworthy, we invite you to let us know about them!
You can complete a form on the page linked above if you'd like to nominate someone to receive an award for the future.