Introducing Two New Publications!
This month we are introducing two new publications to our library. Both have been widely anticipated, so we're excited to make them available!
The Braille Formats Study Guide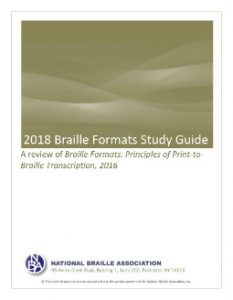 With the adoption of Unified English Braille, the Braille Formats code required a substantial update. Since BANA's release of Braille Formats: Principles of Print-to-Braille Transcription, 2016, our committee of experts have been re-writing educational materials to incorporate these changes. While a certification in Braille Formats doesn't require the purchase of the Study Guide, many who are seeking certification find that the simple outline of the Study Guide is a great way to learn the new concepts.
We've made the Braille Formats Study Guide available as a spiral-bound print publication and also as a PDF download. Either edition is available for $50.00. For the print edition, there is no additional cost for shipping within the United States. To read more about the Braille Formats Study Guide and to purchase, you can visit the product profile in our website store.
The Braille Enthusiast's Dictionary [BRAILLE]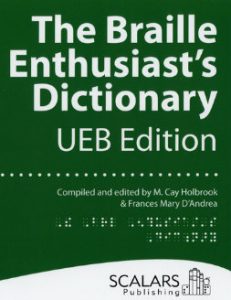 Compiled and edited by M. Cay Holbrook & Frances Mary D'Andrea, the newest edition of the Braille Enthusiast's Dictionary available from SCALARS publishing is the perfect companion for a transcriber or teacher of the visually impaired. Featuring over 30,000 English words, the dictionary serves as a resource to quickly reference many common braille transcriptions.
The print edition of the Braille Enthusiast's Dictionary is available directly through SCALARS, but the National Braille Association is the exclusive provider of the eight-volume braille edition of this title. The braille edition is now available to purchase in our online store for $220.00.
Stay tuned as we continue to add more titles to our existing lineup of educational materials for braille transcribers and teachers of the visually impaired!