Upcoming Braille Formats Webinar: "It's Complicated"
Join us on Friday, January 25, 2019 for this two-and-a-half hour length webinar on Braille Formats! "It's Complicated" will be presented by Cindi Laurent, Chair of our Braille Formats/Textbook Committee.
It's Complicated
What do you do when the rules don't cover everything in print? We will discuss how to transcribe print complications that are not covered by guidelines or rules. Come prepared to review different print examples as we look at one (or more) ways of handling some of the more difficult print formats.
This webinar is a repeat of a workshop by the same name offered at the Professional Development Conference in October 2018. Whether you weren't able to attend the workshop, or want to revisit some material you learned at the conference, here's an opportunity to learn from the comfort of your home or office.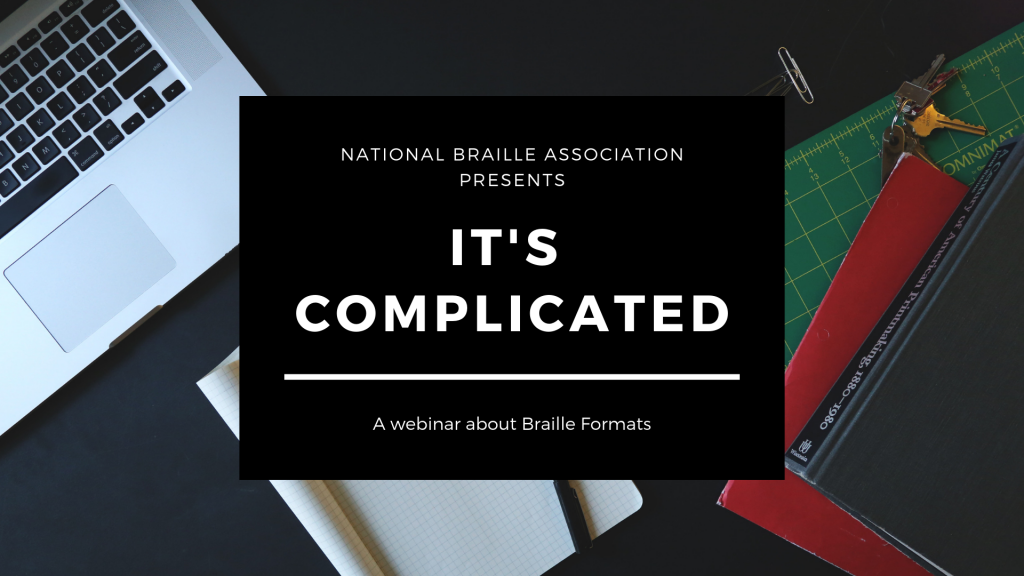 When
This two-hour-and-a-half length webinar will begin promptly at 1:30p EST on Friday, January 25, 2019. The day prior to the webinar, registrants will receive information via email on how to log in to the webinar.
To Register
You can purchase your individual registration for the webinar right in our online store. Current NBA members can purchase a single viewer registration for $30.00, and non-members can purchase a single viewer registration for $60.00.
To receive your member discount, sign in with your account and it will automatically be applied. You can be taken directly to the registration purchase by using this link.
Registration will close Wednesday, January 23 at 5:00p EST.
FAQ
If you're not able to join us for the webinar, the recording of the entire length of the workshop will be made available for purchase at a later date.
Registrations for the webinar are purchased for individuals, not for group viewing.
If you are registering and need to pay by Purchase Order or check, please contact our offices directly.