Upcoming Webinar: Testing Our Patience
Join us on Tuesday, August 22, 2017 at 11:00am EST for our first extended-length webinar!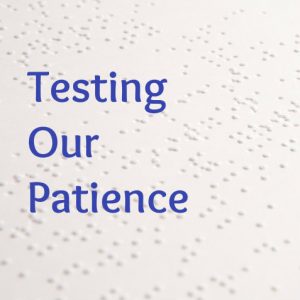 As we've been doing short, free webinars throughout the year, we have also been planning opportunities to conduct webinars that allow the presenter a chance to delve deeper into a topic. Our first ever extended-length webinar will be led by Kyle DeJute, Chair of NBA's Mathematics, Science and Computer Notation Braille Committee.  It is titled  Testing our Patience – Examples of Nemeth Code Within UEB Context in Standardized Tests.
Kyle describes the material that she will cover in Testing Our Patience as:
Through a series of twenty or more print example items and their transcriptions using Nemeth within UEB, we will explore the most up-to-date Guidance for Transcription Using the Nemeth Code within UEB Contexts, clarify certain Nemeth Code rules, and illustrate some suggestions for standardized test material.
The cost to register for this one-and-a-half hour length learning experience is $60.00 for non-NBA Members and $30.00 for current NBA Members. To see a more detailed description and to purchase your spot in the webinar, visit the product profile in our website store. (*Be sure you're signed in using your account to automatically apply your member pricing.)
For questions or more information, please contact the office directly.