Winter is finally beginning to wrap up, and we thought a nice way to celebrate would be with a big long list of webinars for you to join during the month of March. This month we'll be hosting six of our shorter, free webinars, and then a longer, paid-registration webinar, too!
Remember that anyone with an internet connection anywhere in the world can join our free webinars at no cost and without even registering in advance. Just simply click the link to the join underneath the description in the webinar you want to attend.
We record all the webinars and make them available in the member section of our website. If you can't attend live, log in with your member account the day following the webinar and watch the recording as many times as you want!
Prison Braille Services
How To Start A Prison Braille Program
Presenter: Nancy Raspiller, Chair, Prison Braille Services Committee
Date: Monday, March 1st at 1:00p ET
Description: In this webinar, we'll cover some of the basics that an outside agency will need to know when setting up a prison braille program. We will offer guidance on how to communicate with prison officials, on the benefits of a program, and the various needs that a braille program requires to be successful.
---
Braille Formats/Textbook
Headings
Presenter: Michael Gunner, Member, Braille Formats/Textbook Committee
Date: Friday, March 5th at 1:00p ET
Description: In this webinar we will delve into how to transcribe various print headings to include: heading hierarchy, icons with headings, notes/reference marks to headings, and why consistent application of headings is important to the braille reader.
---
Music Braille
Keyboard Instruments Part 5
Presenter: Kathleen Cantrell, Chair, Music Braille Committee
Date: Monday, March 15th at 1:00p ET
Description: In this webinar we will continue to look at Section 29 and learn how to transcribe music printed on more than one staff for piano, organ, and other keyboard instruments.
---
Unified English Braille Literary
Accented Letters
Presenter: Amy Furman, Vice-Chair, Unified English Braille Literary Committee
Date: Wednesday, March 17th at 1:00p ET
Description: We'll discuss accented letters in literary contexts in addition to other letter modifications.
---
Unified English Braille Technical
Grade 1 Mode REQUIREMENTS
Presenter: Kyle DeJute, Chair, Unified English Braille Technical Material Committee
Date: Thursday, March 18th at 1:00p ET
Description: We will cover section 1.7 of the UEB Guidelines for Technical Material (GTM), which addresses the use of grade 1 indicators. We will focus on what symbols require grade 1 mode. This is the seventh webinar in a series examining the GTM one small piece at a time.
---
Computer Assisted Transcription
Preparing Documents for Duxbury Using Microsoft Word Styles and Shortcuts
Presenter: Rebecca Sherwood, Member, Computer-Assisted Transcription Committee
Date: Tuesday, March 30th at 4:00p ET
Description: This webinar will cover the benefits of spending time to prepare documents using styles in Microsoft Word before importing the documents into Duxbury. We will start with an explanation of styles in Word and in Duxbury, and how a transcriber can access the styles that conform to Braille Formats 2016 through the BANA Word template and Duxbury templates.
Note: The SWIFT Add-on to Word will not be discussed in this webinar.
There will be a demonstration of the styles used most frequently in preparing braille documents as well as several helpful though less well-known styles that can make transcription of certain formats faster and more accurate.
---
BANA Guidelines for Early Educational Materials
This month we're also doing a longer webinar that will run about 90-minutes and requires paid registration to attend.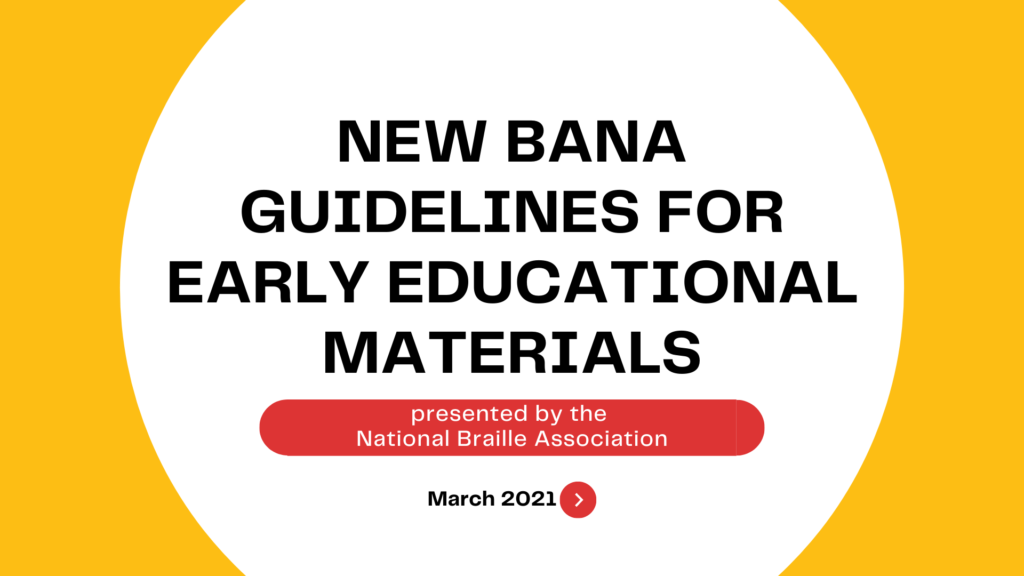 On March 23rd at 1:00p join us as UEB Literary Chair Dan Gergen reviews and walks you through the brand new BANA Guidelines for Early Educational Materials.
For more on this webinar and how to attend, checkout this earlier post.