This season has been a busy one, and we've made a lot of announcements recently. We wanted to take an opportunity and touch base this week to provide an update on everything that is happening with NBA!
Braille Formats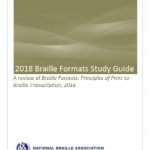 Last month we published the 2018 Braille Formats Study Guide. Though the study guide is not a required purchase before taking the Formats Exam, many find that using the publication is a great way to prep for getting certified. It's available in our website store in print and ebook for $50.00 for either edition.
We still aren't ready to make the Braille Formats certification available yet. Since the release of the newest code, we've been focusing our efforts on getting the study guide available so you can begin learning the material. As soon as the certification exam is available, we'll be announcing it here right away–so stay tuned!
Conference
We've heard that you're excited for the 2018 Professional Development Conference this October in Detroit, Michigan. We're excited, too! We have a lot of great things planned for this year, including a change to how materials will be distributed. There are still a few final touches to wrap up on a couple details that we are planning. Once those are finalized, we'll be making registration for the conference available. We're hoping to have that out very soon.
Publications
In addition to the 2018 Braille Formats Study Guide, we also made available the braille edition of the Braille Enthusiast's Dictionary. The popular transcriber's reference book is available in print through SCALARS Publishing directly, but NBA has always been the place to get the publication in braille. It can be found in our website store for $220.00.
Webinars
We continue to offer three of the free, 15-minute webinars each month. Anyone can attend these, and information on how to join can be found in a blog post published each month. If you're looking for information about April's lineup, you can find that post here. Remember, if you're a current member of NBA, you can sign in with your account to our website and watch all of the previously recorded free webinars!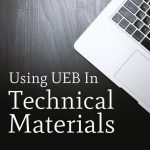 Beginning April 10, NBA is presenting a month-long, four-hour webinar called Using UEB in Technical Materials. Each Tuesday, presenter Wendy Benckhuysen will lead the online workshop in one-hour increments. There are still a few spots left in this webinar, but attendance is limited. If you're hoping to attend this paid session, you can purchase a registration right here in our website store.
Last November, Cindi Laurent presented a paid webinar on Braille2000. We've made a recording of that webinar available to purchase or rent. Members receive a 50% discount on the webinar replay. To get your member discount, you'll find a code in the Member's Section of our website to enter during checkout. You can find a link in our Web Based Learning page, or directly on Vimeo.
As we have new information about all of these topics, we'll continue to update you by posting here on our blog. Stay tuned for conference news, webinar announcements, and the upcoming Spring Bulletin!