Winter Bulletin 2015-2016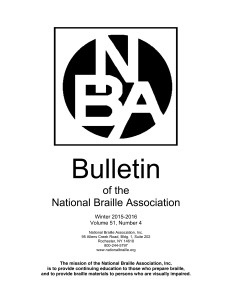 We are pleased to present to all current National Braille Association members the latest edition of our professional journal. The winter edition Bulletin, Volume 51, Number 4 is now available in the Members Section of our website and waiting to be downloaded!
In this edition you'll find articles like "BANA WORD Template: What, Where and How", "What are Dot Locators" and "Numbers and Number Combinations in Foreign Text", among others. As always, our BANA representative includes some important BANA news and you can read a wrap-up of our Fall Professional Development Conference that took place in Louisville this last October. Of course, this list is just a quick preview of the items in this edition, and we're pretty confident that you'll find something useful on every page.
For those of you who receive hard copy print or braille, or who receive the Bulletin on disc, you should be receiving those in the mail within the next few weeks. Remember though, even if you pay to receive a printed Bulletin mailed to your home or office, it's still accessible to you digitally. Login now in the upper right hand corner of our website, and a 'Members Section' link will appear with Bulletins to download, as well as a few other resources we think will be helpful to you as transcribers and educators.
If you know you're a member but don't have access to the Members Section, feel free to be in touch with our office so we can clear up whatever might be causing the error. As you can imagine, taking thousands of database entries from our previous site and merging them to a brand new site is a complex task.  Luckily, any error is very easy to fix, but we won't know it needs to be fixed if you don't tell us.
If you're receiving this email but know that you aren't a current member, it's because at one time you opted to be part of our mailing list and to receive pertinent updates from us. If you're not a current NBA member and want to have access to this Bulletin, among other benefits, you can register right here and see what other members have been enjoying for over 70 years.